Parade for Celebration of the Year of the Rabbit
24.1.2023 & 28.1.2023
Rabbits are born with keen senses of hearing, smell, sight, and strong vitality. According to ancient myth, rabbits are the elves on the moon, symbolizing longevity.
Marking the Year of the Rabbit in 2023, the Chinese New Year Parade revolves around the story of the auspicious rabbit Jade having sensed unparalleled prosperity in all walks of life and a new fruitful era in Macao with her five senses. Therefore, she decides to take other rabbit elves to Macao. Jade told the companions about her memorable stories during her visit to Macao some years ago, including the most unforgettable festive scenario in 1999 (also the Year of the Rabbit) when Macao returned to the motherland.
Jade is intelligent and gifted with the ability to leap over a long distance, overcome difficulties and explore new possibilities. Jade dearly loves all human beings and always wishes to visit the Earth again to bring good fortune to all. Before embarking on her journey, she specially picks a gift from the celestial world, which is the heavenly flower 'Propitious Lotus' that brings happiness, gathers fortune and rejuvenates all things to start afresh. On the third day of the Chinese New Year, Jade is going to visit the Earth with the 'Propitious Lotus', sharing all the auspiciousness and fortune of the lotus to everyone, and embracing the coming of the prosperous era together.
First Parade with floats and performances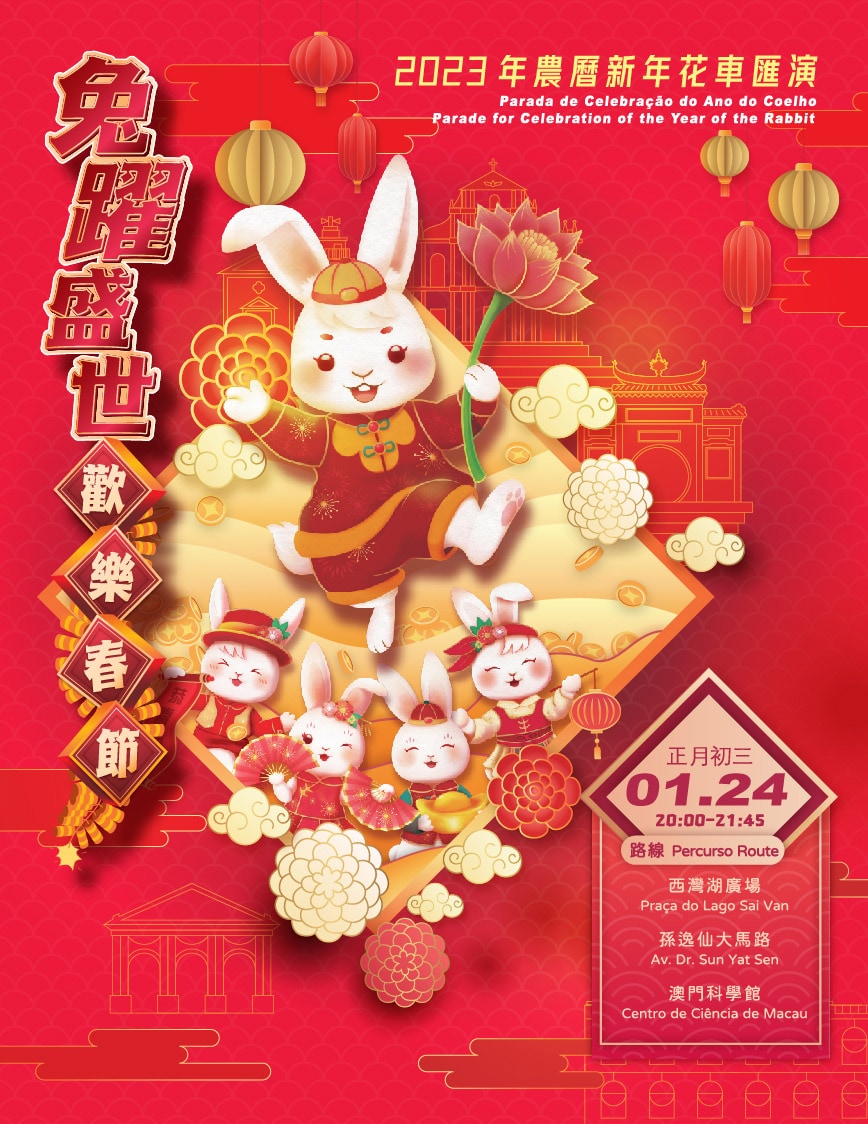 Event Date and Time
Tuesday, 24th January 2023 (3rd day of Lunar New Year), 20:00 – 21:45
Parade Route
Sai Van Lake SquareAv. Dr. Sun Yat-SenMacao Science Center
Parade Floats
18 parade floats
Location of Spectator Stands
Jade Rabbit Palace (Sai Van Lake Square), Fortune Palace (Avenida Dr. Sun Yat Sen), Wealth Palace (Square in front of Kun Iam Ecumenical Center) and Longevity Palace (Roundabout of Macao Science Center)
Opening Ceremony and Parade
20:00, Sai Van Lake Square
Performing Groups
Local, Mainland China and Hong Kong performing groups
Chinese New Year Fireworks Display
21:45, Seafront of Macau Tower
TV Broadcast
Live / deferred
Second Parade with floats and cultural performances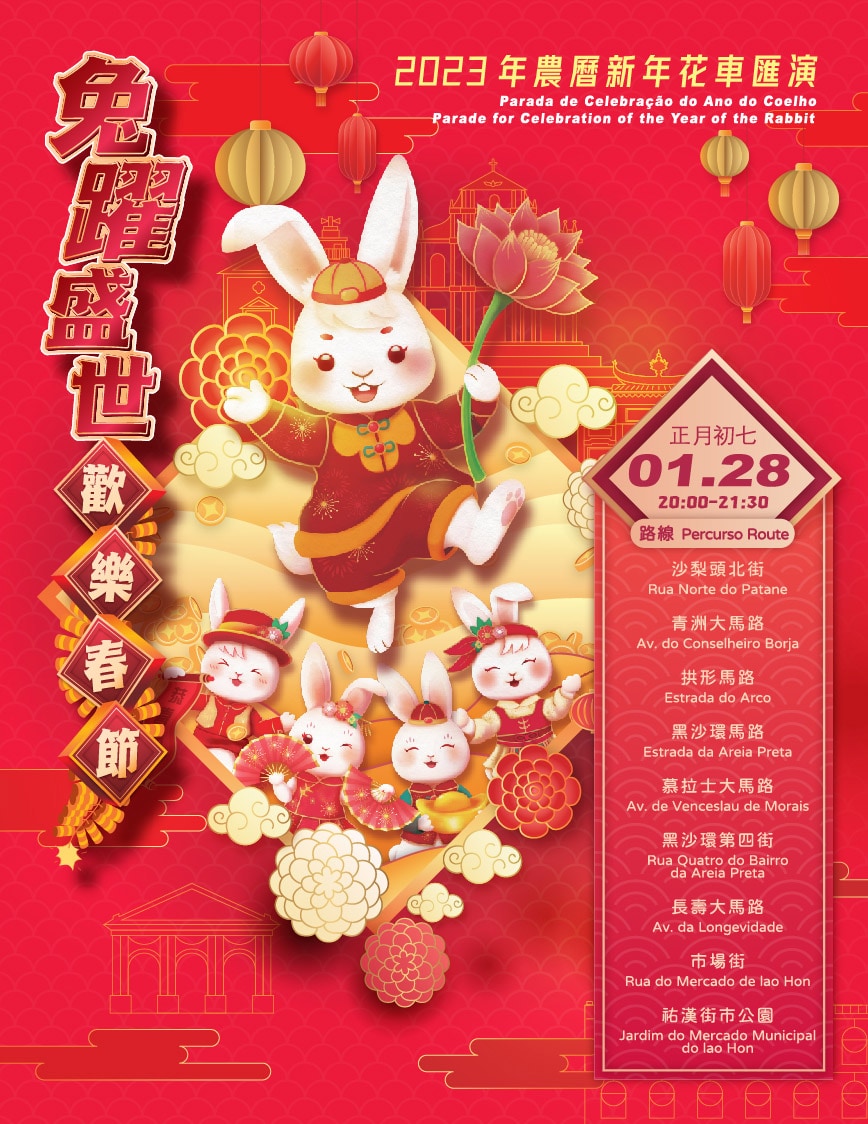 Event Date and Time
Saturday, 28th January 2023 (7th day of Lunar New Year), 20:00 – 21:30
Parade Route
Rua Norte do PataneAv. do Conselheiro BorjaEstrada do ArcoEstrada da Areia PretaAv. de Venceslau de MoraisRua Quatro do Bairro da Areia PretaAv. da LongevidadeRua do Mercado de Iao HonIao Hon Market Garden
Location of Cultural Performance
Iao Hon Market Garden
Parade Floats Exhibition
Date:
25th to 27th January 2023
Date:
29th January to 12th February 2023
Chinese New Year Fireworks Display
Date and Time:
24th January, 2023 (3rd day of Lunar New Year), 21:45
28th January, 2023 (7th day of Lunar New Year), 21:45
5th February, 2023, 21:00
Organizer
Co-organizers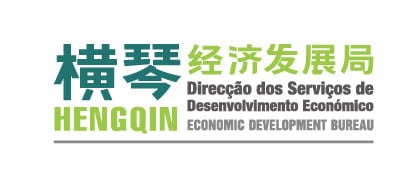 Free Admission
** Macao Government Tourism Office reserves the right to change the program without prior notice.