Light Up Macao Drone Gala 2022
3, 4, 7, 8 / 5 / 2022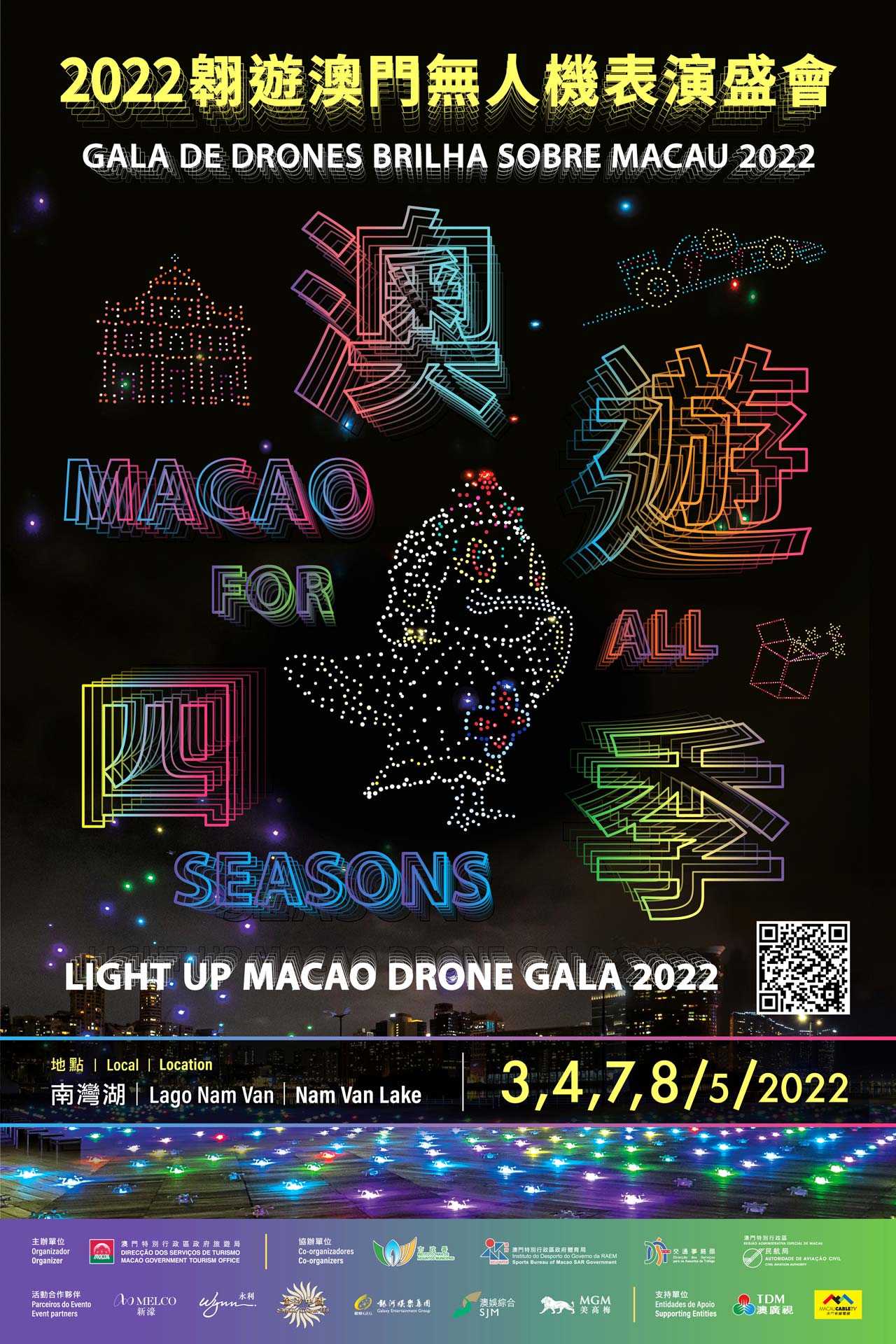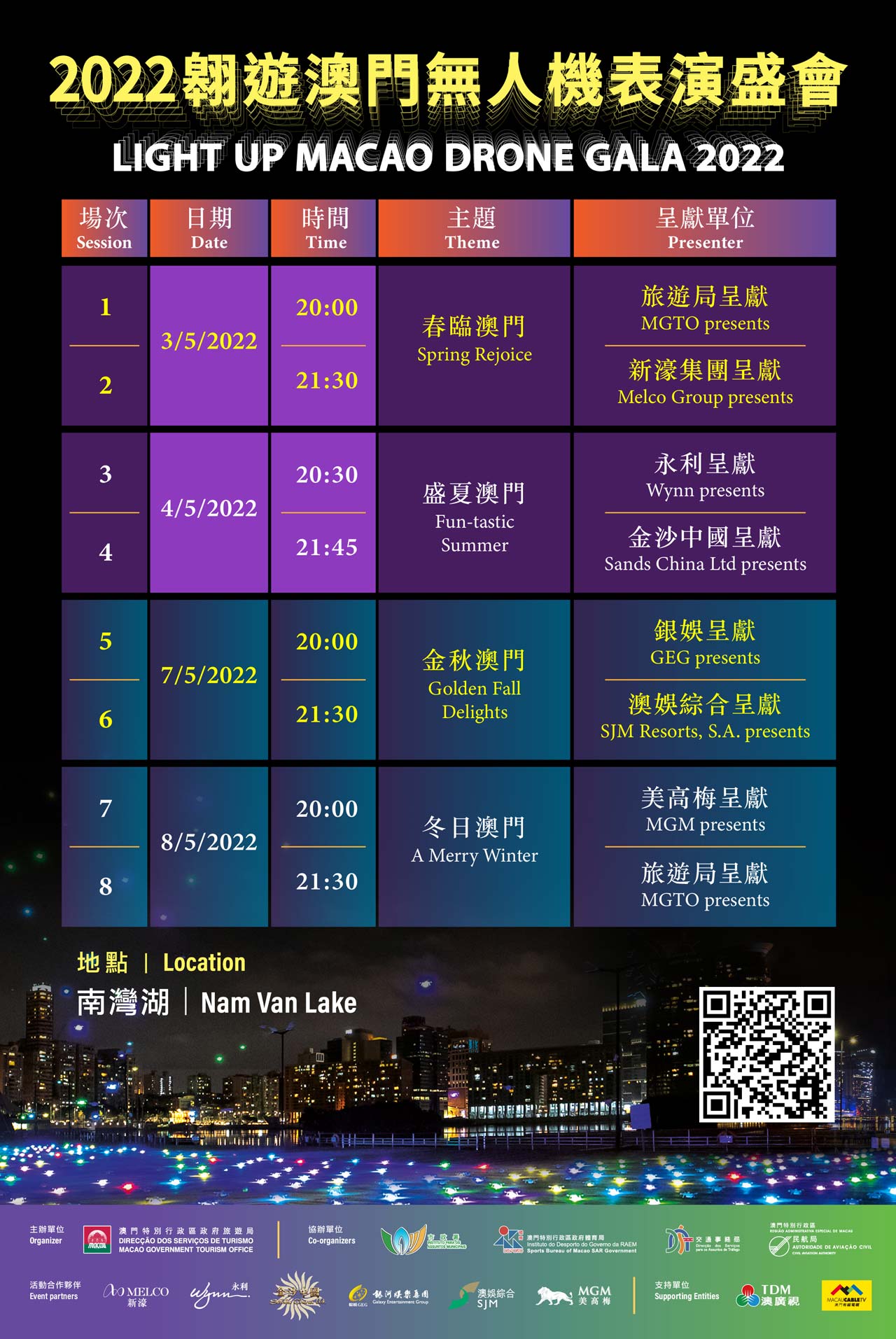 Themes, Show Dates and Time
Spring Rejoice

1st show night: 3/5/2022 (Tuesday)

20:00 - 20:15 (MGTO presents)

21:30 - 21:45 (Melco Group presents)

Fun-tastic Summer

2nd show night: 4/5/2022 (Wednesday)

20:30 - 20:45 (Wynn presents)

21:45 - 22:00 (Sands China Ltd. presents)

Golden Fall Delights

3rd show night: 7/5/2022 (Saturday)

20:00 - 20:15 (GEG presents)

21:30 - 21:45 (SJM Resorts, S.A. presents)

A Merry Winter

4th show night: 8/5/2022 (Sunday)

20:00 - 20:15 (MGM presents)

21:30 - 21:45 (MGTO presents)
Show Location
Best Vantage Points
Nam Van Lake area and Anim'Arte NAM VAN
Show Contents
Two shows per night will be presented with different themes, connecting Macao's festivals and distinctive architectural works, etc. along the four seasons' timeline.
Formation of 880 drones in 12 images will be displayed in each show with the duration of approximately 15 minutes.
The live show is synchronized with music and narration on-site.
Every show will be synchronized with music and narration and broadcasted live by TDM - Radio Macao's Chinese Channel (FM100.7).
Performance Team
Shenzhen High Great Innovation Technology Development Co., Ltd.
Online Game
There will be a Mak Mak drone pattern at the end of each drone show, please enter the website: https://drone-games.ad-on.mo/temp.html from today to 8/5 to join the "Light Up Macao Drone Gala 2022" online game in advance by scanning game QR code at poster or signage. Please click the "Scan Drone" button at game main page and use your camera to scan Mak Mak drone pattern to interact with Mak Mak and get extra 10 times points to redeem various offer and gifts, don't miss it!
Television Channels
Live broadcast on show days: TDM OU MUN TV Channel, TDM Entertainment TV Channel and Macau Cable TV Ch3HD.
Temporary Traffic Restrictions
Vehicle access limitation will be implemented on rehearsal days (27-30/4) and show days (3, 4, 7 & 8/5) along Avenida Panorâmica do Lago Nam Van. No access of pedestrians to the Governador Nobre de Carvalho Bridge is allowed during the shows (3, 4, 7 & 8/5).
Epidemic Prevention Measures
Designated spectator area with individual entrance and exit with security guards for crowd management are set up at Nam Van Lake area (from Anim'Arte NAM VAN to the vicinity of the white canopy) to avoid crowd.
Body temperature, health code and venue code will be checked at all entrances.
Spectators are required to present their green health code, venue code, and undergo temperature check upon admission to the designated spectator area, as well as maintaining at least one-meter social distance and wear masks and at all times.
Adverse Weather Contingency Plan
The performance and communication channel of drones might be affected by wind speed and rainfall rate. It will be the desirable weather conditions for drone performance below level 5 wind speed (i.e. 31 - 40 km/hour) and without any rainfall. Announcement will be made by the Macao Government Tourism Office two hours prior to the show in case of postponement or cancellation.
Outreach Program
Big Big Drone Exhibition
Date & Time: 25/4 (19:00 - 22:00); 26/4 - 8/5 (10:00 - 22:00)
Venue: Nam Van Lake Nautical Center
Description of activity: Exhibition of a giant drone in the white canopy area, presented with guided video.
Drone Formation Display
Date: 25-30/4 & 5-6/5
Time: 19:00 - 21:00
Venue: Anim'Arte NAM VAN
Description of activity: Exhibition of the formation of 200 drones with pattern of "I ♡ MACAO" at Anim'Arte NAM VAN.
"Macao for All Seasons" Photography Contest
Submission Date: 1/5/2022 - 30/6/2022
Target participants: Open to all residents of Macao and visitors
Categories & Prices:
Youth Group - aged 12-18 (born between 2004 to 2010)
One Champion: MOP5,000.00 cash and trophy
One First Runner-up: MOP3,500.00 cash and trophy
One Second Runner-up: MOP2,000.00 cash and trophy
Six Merit Prizes: MOP800.00 cash each and certificate
Open Group – aged 18 above (born in 2003 or before)
One Champion: MOP5,000.00 cash and trophy
One First Runner-up: MOP3,500.00 cash and trophy
One Second Runner-up: MOP2,000.00 cash and trophy
Six Merit Prizes: MOP800.00 cash each and certificate
Application: eservice.macaotourism.gov.mo/registration/registerDGPhotoComp.php?lang=1
"Drone Sky Art" Formation Design Contest
Submission Date: 1/5/2022 - 30/6/2022
Target participants: Open to all residents of Macao and visitors
Categories & Prices:
Youth Group – aged 12-18 (born between 2004 to 2010)
One Champion: MOP5,000.00 cash and trophy
One First Runner-up: MOP3,500.00 cash and trophy
One Second Runner-up: MOP2,000.00 cash and trophy
Six Merit Prizes: MOP800.00 cash each and certificate
Open Group – aged 18 above (born in 2003 or before):
One Champion: MOP5,000.00 cash and trophy
One First Runner-up: MOP3,500.00 cash and trophy
One Second Runner-up: MOP2,000.00 cash and trophy
Six Merit Prizes: MOP800.00 cash each and certificate
Application: eservice.macaotourism.gov.mo/registration/registerDGDesignComp.php?lang=1