Light Up Macao Drone Gala
Show dates: Dec 4, 11, 18, 20 & 25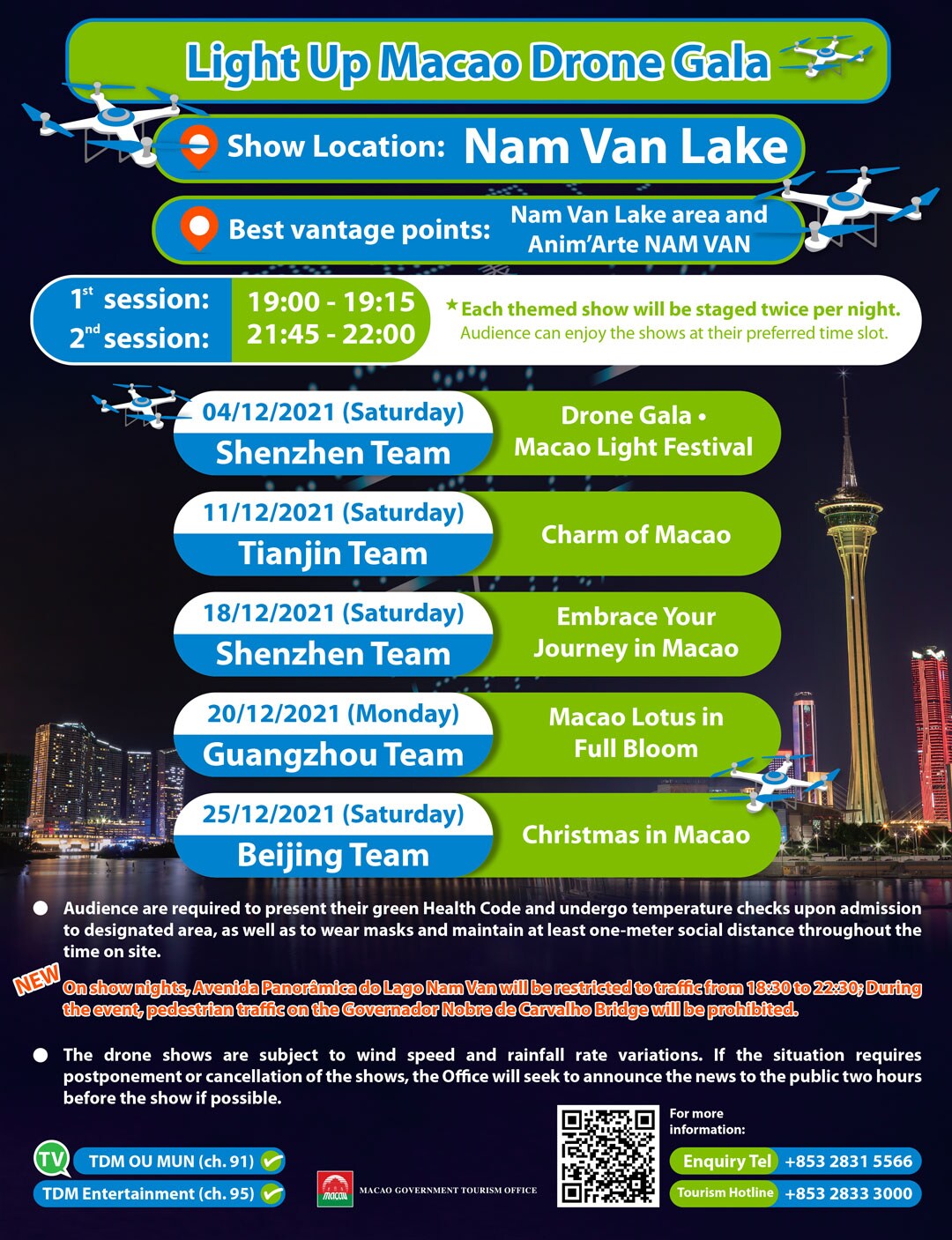 Show contents
The live show is synchronized with music and narration
Each show will be staged twice per night. Audience can enjoy the shows at their preferred time slot
300 drones will light up the sky during each show with 8-10 images which lasts for 10 to 15 minutes
Synchronized music streaming from TDM - Radio Macao's Chinese Channel (FM100.7) in every scheduled show evening.
Performance Teams and Themes
| Date | Drone Team | Theme | Theme introduction |
| --- | --- | --- | --- |
| 4/12/2021 | Shenzhen Team | Drone Gala ‧ Macao Light Festival | Unveiling the evening's event with "Drone Gala ‧ Macao Light Festival", drones hovering in the air to display the local characteristics of Macao elements, through the emotional and artistic fusion of the performance, shining Macao with the light feast, symbolizing a prosperous Macao. |
| 11/12/2021 | Tianjin Team | Charm of Macao | World Heritage is a rare and irreplaceable wealth of mankind, for over four hundred years, the exchange and transformation of Chinese and Western cultures, giving Macao a unique cultural charm, but also preserved a considerable rich history of world heritage. The world heritage of Macao and other cities will be showcased through countless stars over the night sky, giving a more brilliant glow to the travel city of Macao. |
| 18/12/2021 | Shenzhen Team | Embrace Your Journey in Macao | Showcasing a unique humanity, architecture, gastronomy, spiritual, cultural and colorful trip of Macao, from culture to world heritage, to the changing interpretation of gastronomy, the concept of integration and connection of the "Fusion of Hengqin and Macao", that links the Macao tour with all kinds of trendy entertainment experience and its journey of development in a colorful journey filled with new experiences. |
| 20/12/2021 | Guangzhou Team | Macao Lotus in Full Bloom | Between 1999 and 2021, the Macao Lotus is in full bloom for 22 years, the Macao Special Administrative Region has implemented a leaping development with a brilliant and colorful glow. Showcasing the integration of the youth in the Greater Bay Area, starting a new chapter for Macao's development in the future. |
| 25/12/2021 | Beijing Team | Christmas in Macao | Theming at a postcard featuring Macao's architectures, sports characteristics and Christmas elements, which leads to Macao's landmark architectures and travel culture, at the same time, the Macau Grand Prix, a sport with Macao's characteristics will be displayed during the drone show, added with Christmas elements to enrich the festive ambience. |
Television Channels
Live broadcast on show days: TDM OU MUN TV Channel (21:45) and TDM Entertainment TV Channel (19:00 and 21:45).
Epidemic Prevention Measures
Designated audience area and individual entrance and exit are set up at Nam Van Lake area (from Anim'Arte NAM VAN to the vicinity of the great white canopy)
Each entrance and exit area will implement crowd management
Upon admission to the designated audience area, spectators are required to present their green Health Code and undergo temperature checks, as well as to maintain at least one-meter social distance and wear masks throughout the time on site
Temporary traffic restrictions
On show nights, Avenida Panorâmica do Lago Nam Van will be restricted to traffic from 18:30 to 22:30; During the event, pedestrian traffic on the Governador Nobre de Carvalho Bridge will be prohibited.
Adverse weather contingency plan
Announcements will be made by the Macao Government Tourism Office two hours prior to the show in case of postponement or cancellation.
Suitable conditions for the drone performance
According to the advice of the Technical Consultant of "Light Up Macao Drone Gala", the function/performance and communication channel of drones is subject to wind speed and rainfall rate. The shows can take place under suitable conditions at a level 5 wind speed (i.e. 31 - 40 km/hour) or below without any rainfall.
Plan for the drone performance
Weather status
Timeline
Plan
Show status
Contingency Plan
When the wind speed is under level 5 (i.e. 31 - 40 km/hour) and no rainfall.
Whole day
Suitable to hold the show
Show to be held as scheduled
Not applicable
When the wind speed is above level 5 (i.e. 31 - 40 km/hour)
Two hours before the show
Need to assess the practical situation whether it is suitable to hold the show
Two hours before the show, the Organizer will decide whether to hold the show as scheduled, postpone or cancel
If the decision is to postpone or cancel the shows, the Organizer will announce to the public, two hours in advance before the show, through MGTO website and TDM TV and Radio channels
When there is moderate rain, heavy rain, rainstorm or other bad weather
Two hours before the show
Need to assess the practical situation whether it is suitable to hold the show
The Organizer will decide whether to hold the show as scheduled, postpone or cancel
When the wind speed is above level 5 (i.e. 31 - 40 km/hour), with moderate rain, heavy rain, rainstorm or other bad weather
Two hours before the show
Need to assess the practical situation whether it is suitable to hold the show
The Organizer will decide whether to hold the show as scheduled, postpone or cancel