Travelling to Macao
Macau International Airport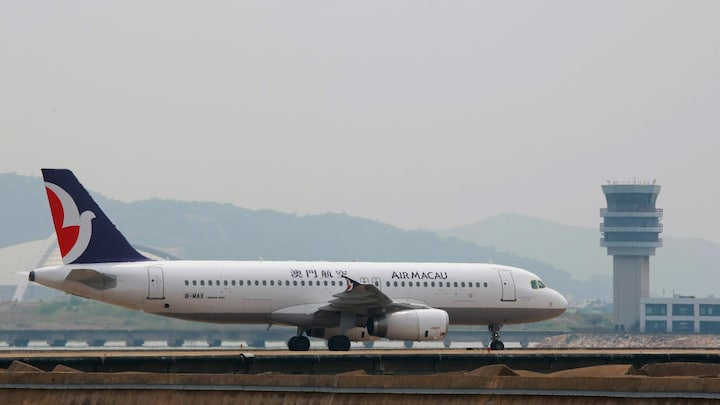 Macau International Airport operates 24 hours a day, with many visitors entering the territory via numerous major cities around the region. For detailed information on flight schedules, please visit www.macau-airport.com or dial +853 2886 1111.
To read the Regulations on Liquids Carried in Passenger Hand Baggage, please visit www.aacm.gov.mo.
For detailed information on immigration and customs formalities, visit www.fsm.gov.mo and www.customs.gov.mo.
Transportation Service to and from Macau International Airport
All major hotels provide a pick-up service which can be booked in advance or arranged upon arrival.
Taxis are conveniently available from the taxi rank outside the airport. A surcharge of MOP5.00 is applicable, with each item of luggage carried in the boot charged at MOP3.00.
A number of buses serving the airport – marked AP1, AP1X, MT1, MT4, N2, 26, 36, 51A & 51X - criss-cross the city and stop at major hotels.
Macau International Airport is strategically located in Taipa near various ports and convenient transportation routes. Depending on traffic flow, it takes about 15 minutes to travel by car from the airport to Outer Harbour Ferry Terminal on Macao Peninsula, 5 minutes to the nearby Taipa Ferry Terminal, 20 minutes to the Border Gate, 10 minutes to the Macao Port Zone of Hengqin Port, 20 minutes to the central district on Macao Peninsula, and 10 minutes to Taipa Village. The airport is well served by air-conditioned taxis, public buses and hotel shuttle buses.
Hong Kong → Macao
The inauguration of Hong Kong- Zhuhai-Macao Bridge allows tourists to enter Macao by vehicles. Tourists can take shuttle buses to enter Macao.
Shuttle Bus
The shuttle bus provides service connecting Hong Kong and Macao ports. For details, please contact:

Tourists may continue their journey by taxi or bus - routes 101X once arriving the Macao port.
Major cities in Guangdong Province → Macao
The Kee Kwan Motor Road Co. and China Travel Service (Macao) Ltd. operate a roundtrip air-conditioned bus service from major cities in Guangdong Province to Macao. The buses arrive at Gongbei Port in Zhuhai, from where you may go through the checkpoints at GongbeiPort and Border Gate to Macao. For enquiries, please call:
In addition, coach companies offer direct bus services from Macau International Airport to major cities in Guangdong Province.
Enquiry hotline: +853 2888 1228
Website: www.macau-airport.com/en/transportation/transport-connection/cross-border-coach
Gateways available from Mainland China to Macao by land:
The Border Gate
Opening hours: 6:00am to 1:00am
Macao Port Zone of Hengqin Port
Opening hours: 24 hours
The Hong Kong-Zhuhai-Macao Bridge Frontier Post at Macao Port
8:00am to 10:00pm: Tourists from Zhuhai can travel to Macao via the Frontier Post on foot.
Qingmao
Opening hours: 24 hours (for passengers allowed)